Web design is one of the fastest-growing careers at the moment. With the growth of e-commerce, the demand for good web designers is higher than ever. But how much can you make as a web designer in 2023? Let's find out!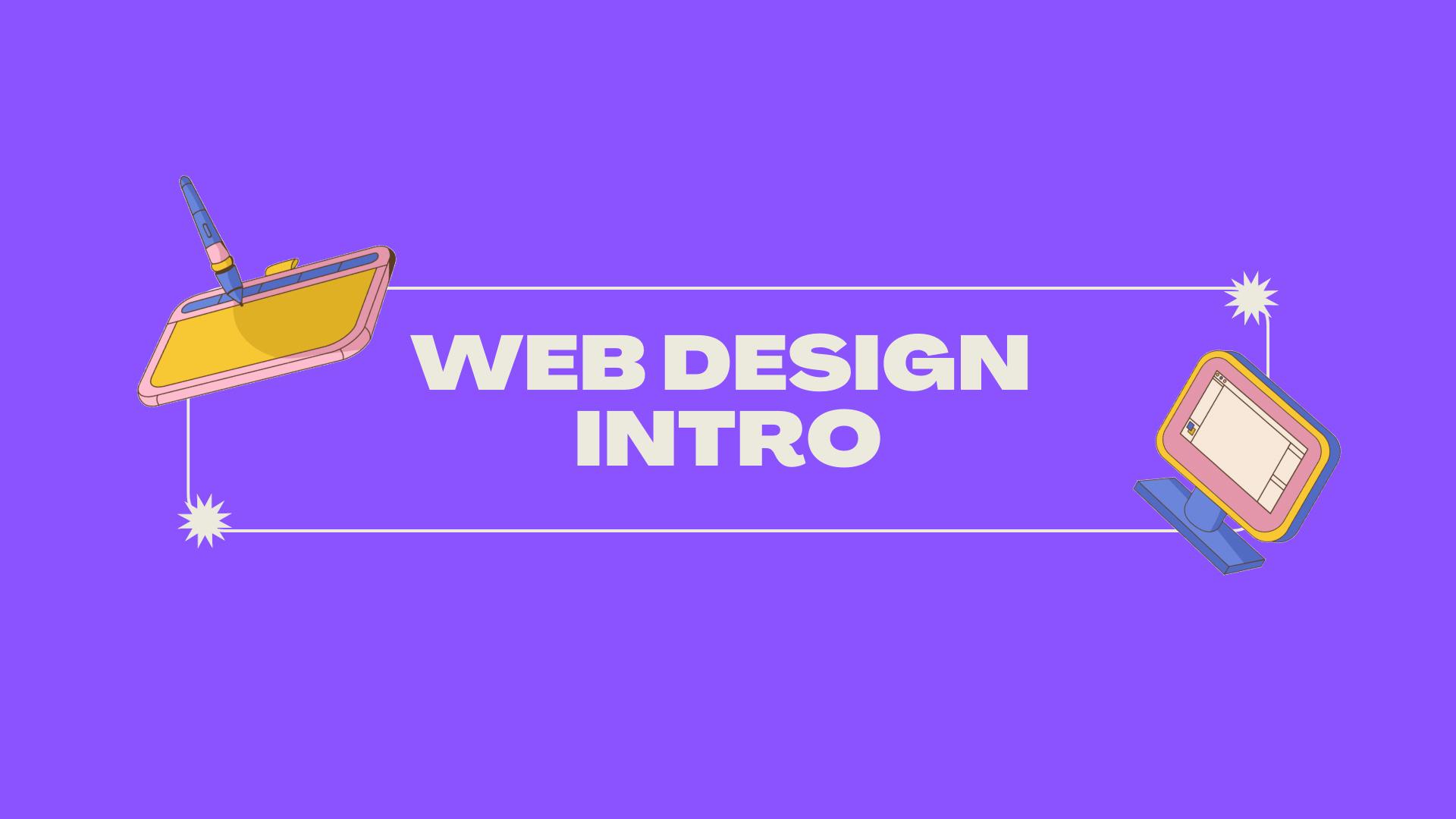 In this article, you'll find out the current wage for web designers and what skills can increase your paycheck. If you are a freelancer looking to set your prices, or you are about to start job-hunting, you'll be able to know your worth in the market to negotiate your wage. 
First, what does a web designer do? 👨🏻‍💻
A web designer designs web pages. Web design is extensive, and it has many sub-categories and specialties. The level of education and expertise needed varies from specialty to specialty. And generally speaking, the more specialized you are, the more you can earn. Here are some of the specialties on highest demand:
Web designer: primarily concentrate on the visual aspects of a website, including its layout, color scheme, typography, and overall aesthetics. Their work revolves around creating visually appealing and engaging websites that align with the client's brand identity and target audience. They ensure that the website's design is attractive and visually communicates the desired message.
UX/UI designer: A UX (User Experience) designer improves the experience of using a website by making it appealing and enjoyable. Good UX design is essential to keep visitors engaged and in a website for more extended periods. 
Product designer: A product designer designs project artifacts such as prototypes, process flows, journey mapping, wireframes, etc. Some of the work required from product designers is to improve existing "products" and make them more efficient, functional, and appealing. 
Mobile App designer: As the name states, a mobile app designer creates and develops mobile applications for smartphones and tablets. They are responsible for designing the look, feel, and mechanics of an app, testing, and regular maintenance.
Design process
The design process is a systematic approach that involves ideation, creation, and iteration to develop solutions that meet specific objectives and address user needs.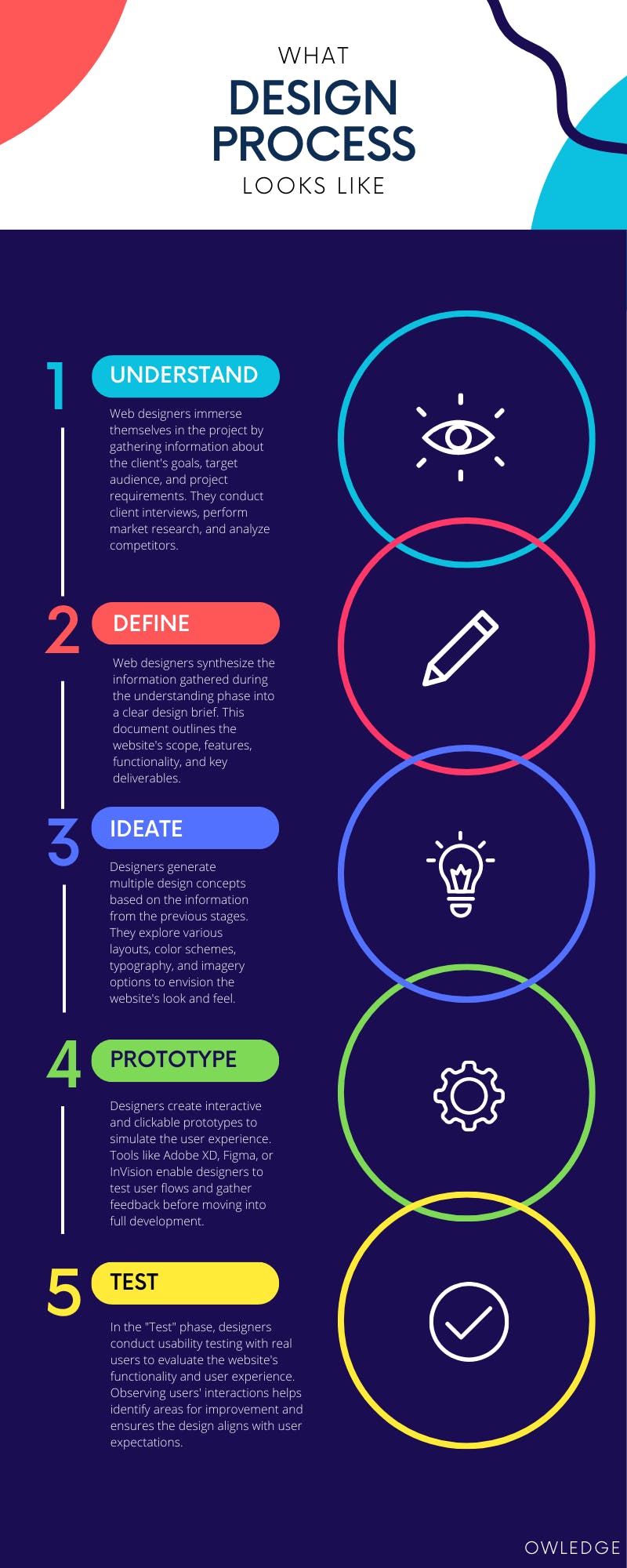 The web design process consists of several crucial stages, each contributing to the creation of a successful and user-friendly website. Let's explore each of the 5 points in details:
Understand 💁🏼‍♂️
During the "Understand" phase, web designers immerse themselves in the project by gathering information about the client's goals, target audience, and project requirements. They conduct client interviews, perform market research, and analyze competitor websites to gain insights.
Understanding the client's brand identity and unique selling points helps align the design with their vision. This phase lays the groundwork for the entire web design process, as it defines the project's objectives and sets the direction for subsequent stages.
Define 👇🏼
In the "Define" stage, web designers synthesize the information gathered during the understanding phase into a clear design brief. This document outlines the website's scope, features, functionality, and key deliverables. It includes sitemaps, user personas, user journey maps, and wireframes.
Collaborating with stakeholders, designers ensure alignment on the project's direction and objectives. The design brief serves as a blueprint for the entire design process, ensuring that everyone involved is on the same page.
Ideate 🖼
The "Ideate" phase is all about creativity and brainstorming. Designers generate multiple design concepts based on the information from the previous stages. They explore various layouts, color schemes, typography, and imagery options to envision the website's look and feel. Ideation often involves sketching, mood boards, and style tiles to visualize design ideas.
This phase encourages experimentation and fosters innovative solutions, leading to the most promising design concepts for further development.
Prototype 📱
Once the best design concepts are identified, designers move on to the "Prototype" stage. They create interactive and clickable prototypes to simulate the user experience. Tools like Adobe XD, Figma, or InVision enable designers to test user flows and gather feedback before moving into full development.
Prototyping allows stakeholders to preview the design's functionality and navigation, making it easier to identify potential usability issues and refine the design accordingly.
Test 📲
In the "Test" phase, designers conduct usability testing with real users to evaluate the website's functionality and user experience. Observing users' interactions helps identify areas for improvement and ensures the design aligns with user expectations.
Feedback from testing sessions is valuable for making data-driven design decisions. This iterative process may involve multiple rounds of testing and refinement until the final design is optimized for user satisfaction and usability.
By following these five stages web designers can develop well-informed, user-centric, and visually appealing websites that meet the needs of clients and their target audience.
Salaries and expected wage 💰
The specialty you choose, your level of experience/seniority, the company you work for, and your geographical location dictate how much you can make as a web designer. In this article, we are primarily looking at the annual salary expectation in North America and Europe.
So now, without any further ado, here are the numbers!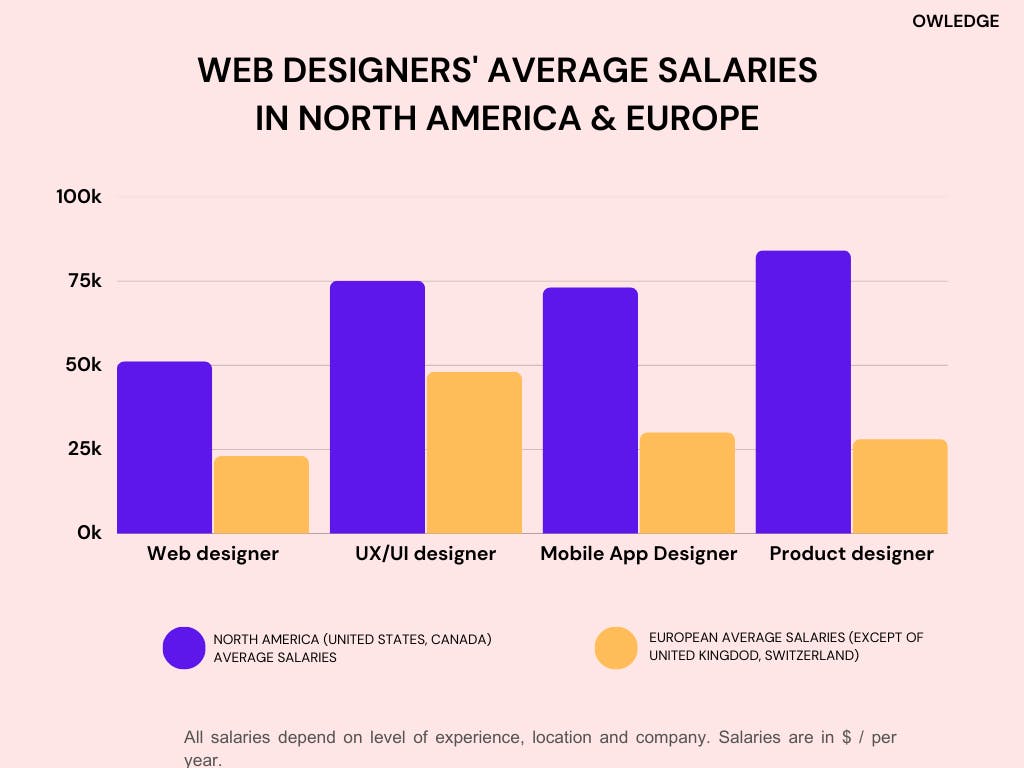 Web designer (no specialty)
North America 💵
- People report earning between $36,000 to $75,000 with an average of $51,000.
- People with 5 years or less of experience make on average $49,000.
Europe 💶
- People report earning between €17,000 to €35,000 with an average of €23,000.
- People with 5 years or less of experience make on average €22,000.
UX/UI Designer
North America 💵
- People report earning between $51,000 to $109,000 with an average of $75,000.
- People with 5 years or less of experience make on average $72,000.
Europe 💶
- People report earning between €23,000 to €62,000, with an average of €48,000.
- People with 5 years or less of experience make an average of €31,000.
Product Designer
USA 💵
- People report earning between $51,000 to  $129,000 with an average of $84,000.
- People with 5 years or less of experience make on average $82,000.
Europe 💶
- People report earning between €20,000 to €51,000 with an average of €28,000.
- People with 5 years or less of experience make on average €26,000.
Mobile App designer
USA 💵
- People report earning between $49,000 to $116,000 with an average of $73,000.
- People with 5 years or less of experience make on average $70,000.
Europe 💶
- People report earning between €21,000 to €58,000 with an average of €30,000.
- People with 5 years or less of experience make an average of €29,000.
How to become "one of a kind" web designer? 💎
By choosing to become a web designer, you open doors to a versatile career path with transferable skills applicable to various design and digital media-related fields. Your creativity and expertise can make a tangible difference in businesses' success, contribute to societal causes, or showcase your artistic projects to a global audience.
Learn the Fundamentals: Master Adobe Tools, learn basics of HTML, CSS; familiarize yourself with UX/UI design principles, typography, and color theory.
Stay Updated: Keep up with the latest web design trends, tools, and technologies to remain relevant and innovative.
Build a Portfolio: Create a diverse portfolio showcasing your best work and projects.
Seek Feedback: Seek feedback from peers and professionals to continuously improve your skills.
Network and Collaborate: Connect with the design community, collaborate on projects, and stay open to new opportunities.
Understand Users: Develop a deep understanding of user needs and create user-centric designs.
Be Detail-Oriented: Pay attention to the smallest details to deliver high-quality designs.
Communicate Effectively: Clearly communicate with clients and teams throughout the design process.
Adaptability: Embrace change and be adaptable to new challenges and technologies.
Passion and Perseverance: Stay passionate about design, work hard, and persevere through challenges to achieve success.
In conclusion, embarking on a journey as a web designer not only offers an exciting and fulfilling career but also empowers you to positively influence the digital landscape and contribute to the ever-changing world of design and technology.
How much can web developer make - if you're interested in salaries
###
Tired of your 9-5 job? Quit this rate race with us! Sign Up for Owledge and start a freelancing career right away!
Follow us on Facebook, Twitter & LinkedIn for more viral content weekly!